Second Home Serpentine Pavilion
Get ready to explore a winding gallery of rainbow tunnels at the Tar Pits.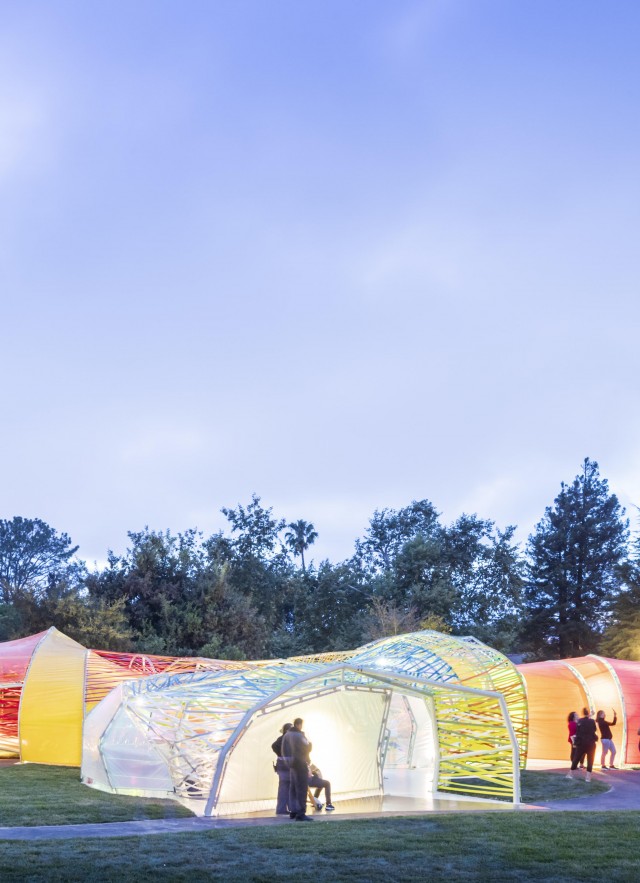 A winding gallery of rainbow tunnels has arrived at La Brea Tar Pits. The Second Home Serpentine Pavilion by SalgasCano at La Brea Tar Pits opens for free daily visits and public events now through November 24, 2019. Thanks to a collaboration between the London- based Second Home and the Natural History Museums of Los Angeles County (NHMLAC), the park at La Brea Tar Pits will welcome the 866-square-foot Pavilion in its U.S. debut. Designed by SelgasCano, the Spanish team of José Selgas and Lucía Cano, the Pavilion was originally installed in London's Hyde Park.
"The Pavilion is an opportunity to experience one of the boldest and most innovative designs in contemporary architecture," says Dr. Lori Bettison-Varga, NHMLAC President and Director. "But it's also a place for people to meet and be inspired by a range of activities throughout the Summer. It gives a glimpse of what we can do with cultural programming at our museums, at that space where art and science intersect."
Angelenos and visitors can wander through the immersive structure and experience architecture through shape, light, transparency, color, and materials. There are many places to enter and exit, inside lies a "secret corridor" between the outer and inner layers of the structure that leads into the Pavilion's bright, stained-glass-effect interior. Second Home and NHMLAC will partner on a diverse program of public talks, film screenings, and other events — all free and open to the public — to take place throughout the five-month installation of the Pavilion.
World-class speakers and experts across a range of fields will present programs focusing on key contemporary themes, including diversity in entrepreneurship; the future of Los Angeles in terms of equity and sustainability; and the possibilities for convergence and cross-pollination in art, science, design, nature, and innovation. It's an opportunity to experience a range of cultural programming at a space where art and science intersect. As Sam Aldenton, cofounder and co-CEO of Second Home, puts it: "The Second Home Pavilion is a celebration of this: our love letter to L.A."