A Mural Remembers L.A.
Chicana artist Barbara Carrasco's mural, L.A. History: A Mexican Perspective, makes its long-awaited debut at the museum.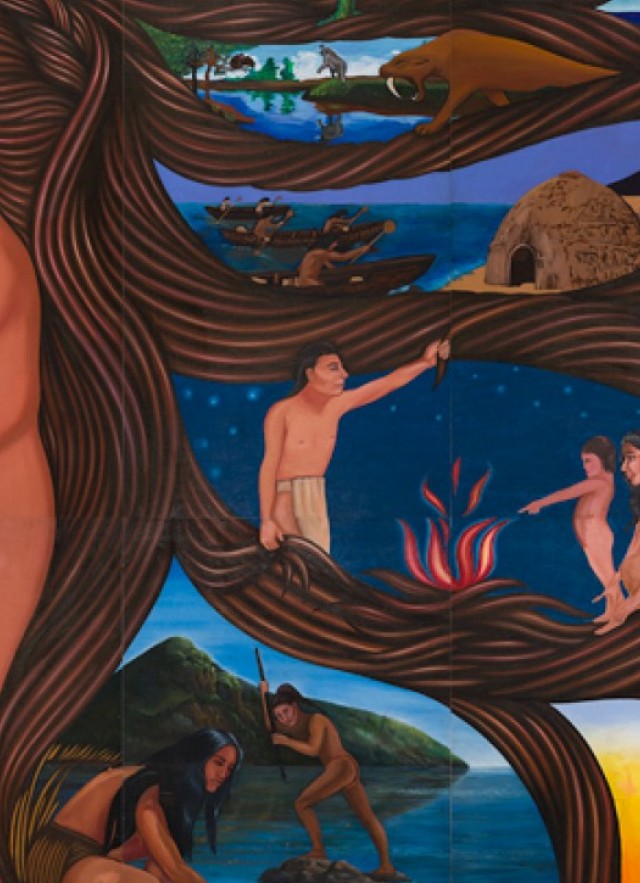 In a new gallery adjacent to Becoming Los Angeles, Chicana artist Barbara Carrasco's mural, L.A. History: A Mexican Perspective, will make its long-awaited museum debut. The exhibition title, Sin Censura: A Mural Remembers L.A., references the mural's censorship by the former Los Angeles Community Redevelopment Agency (CRA), that originally commissioned Carrasco to create the mural for the city's 1981 bicentennial but halted the project when the artist refused to remove 14 depictions of historical moments the agency deemed too controversial. These included scenes referencing the internment of Japanese Americans during World War II, the Zoot Suit Riots of 1943, and, ironically, the whitewashing of David Alfaro Siqueiros's outdoor mural América Tropical (1932) that overlooks Olvera Street. "This was my chance to show what I wish was in the history books," says Carrasco.
L.A.'s Vibrant Journey
The full mural, which portrays the city's history through a series of vignettes woven into the flowing hair of la reina de Los Ángeles (the queen of Los Angeles), has only been on public exhibition twice since its creation. On the 43 Masonite-and-wood panels, visitors will discover colorful highlights of L.A.'s story. Who, for one, were the very first Angelenos? Several scenes show Native Americans, such as the Gabrieleño/Tongva, Spanish explorers, Mexican rancheros, Chinese railroad workers, and African Americans who had come westward. The mural also includes images of the war between the U.S. and Mexico (a battle visitors can see played out in Becoming Los Angeles, too). Frantic horses dominate another illustration of the Battle of Rio San Gabriel, a decisive fight in the Mexican Army's attempt to stop United States military forces from taking control of Los Angeles. Another vignette shows the Grand Central Market—more than a place for good food, it is a microcosm of L.A.'s diverse cultural offerings.
A Picture of Injustice
In another part of the mural, there's an image of a young Japanese American girl sitting on a suitcase as she waits to be interned in a U.S. military camp during World War II. Carrasco was told that people wouldn't want to be reminded of internment, despite having letters of support from several Japanese American organizations. One of the final panels in the mural is a composite group portrait of contemporary Los Angeles, celebrating 20th-century Angelenos such as Mayor Tom Bradley, musician Cesar Rosas, journalist Frank del Olmo, and many of the youth employed to help paint the mural. Take a walk through the gallery and you may recognize your history, your community, and your L.A. home.
The Natural History Museum of Los Angeles County and Barbara Carrasco would like to thank Glenna Avila, Yreina D. Cervántez, Rod Sakai, LA Plaza de Cultura y Artes, and the California Historical Society for their contributions to this exhibition.